Stranger Things has returned after three years and is once again scoring massive viewership stats on Netflix. Season 4 volume 1 broke the record for the biggest-ever premiere weekend for an English-language TV series. The record was previously held by Season 2 of Bridgerton.
As per Netflix's newly released Top 10 rankings, Season 4 of the hit sci-fi series was viewed for 287 million hours during the week of May 23-30, landing in the No. 1 position.
The first three seasons of Stranger Things also made it back into Netflix's Top 5 titles for the week of May 23-30.
Stranger Things season 1 came in the 3rd place with 28 million hours views was Season 1 of Stranger Things. Season 3 and season 2 followed right behind in fourth and fifth place with views of 24.2 million hours and 22.2 million hours.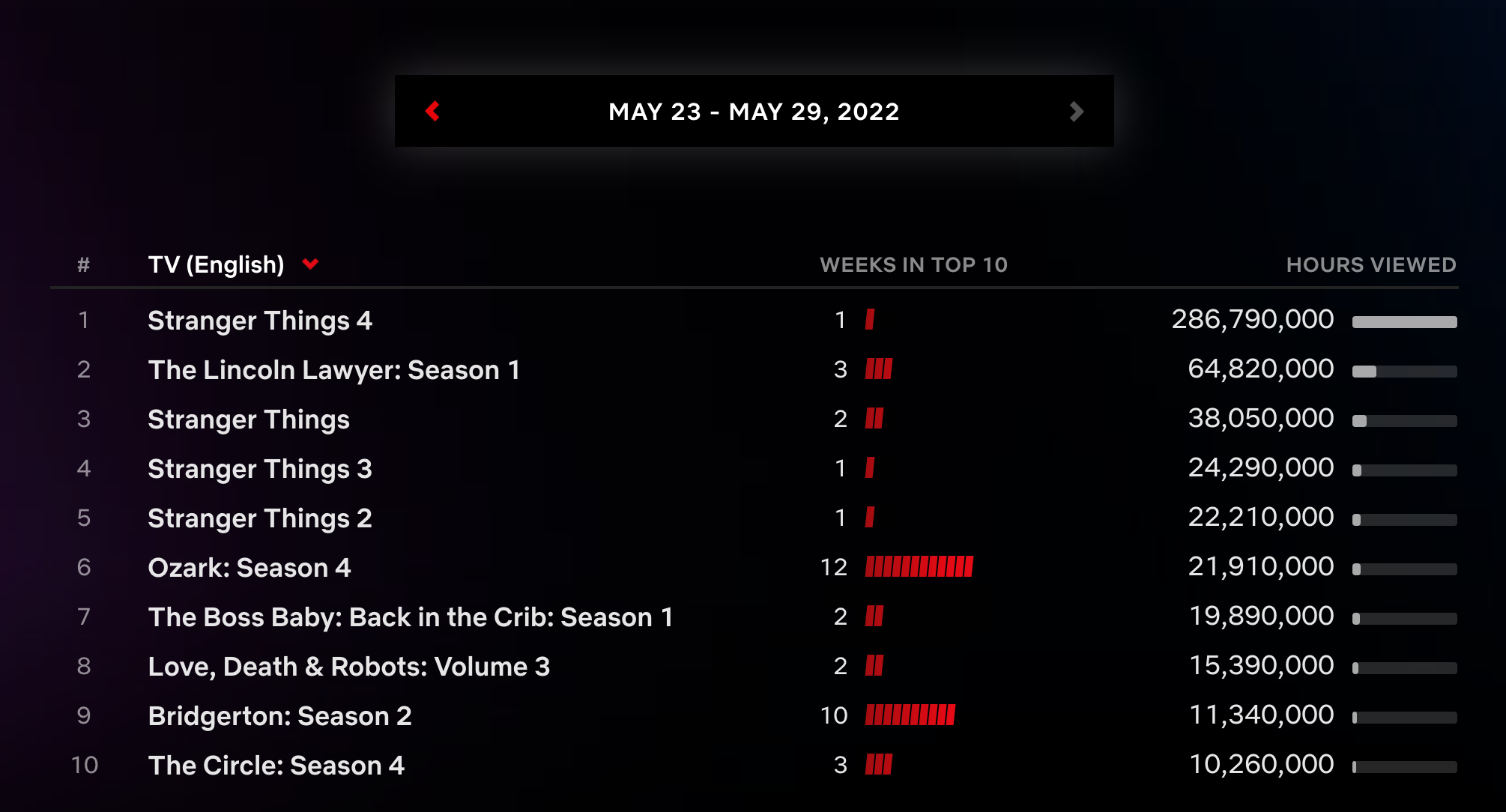 The previous record was held by Bridgerton Season 2 which was viewed for 193 million hours over its debut weekend. Now, Stranger Things 4 holds that title and broke the Bridgerton record by nearly 50%.
Related Articles: Millie Bobby Brown Movies and TV Shows List
In October 2019, Netflix said Stranger Things 3 was the show's most-watched season to date, with 64 million member households consuming it within the first month of its launch. In its first four days, Netflix says more than 40 million people watched the third season of Stranger Things.
Stranger Things became a sensation after its debut on Netflix in 2016. The series featured actors Millie Bobby Brown, Finn Wolfhard, Gaten Matarazzo, Noah Schnapp, Caleb McLaughlin,  Winona Ryder and David Harbour.
Volume 2 of Stranger Things Season 4 will arrive on Netflix on July 1, consisting of two episodes. The series has already been renewed for its fifth and final season.