When Netflix announced Jamie Campbell Bower among the cast of season 4, he was named in the role of Peter Ballard. The character had a vague description: "A caring man who works as an orderly at a psychiatric hospital. Tired of the brutality he witnesses day after day, will Peter finally take a stand?"
"I have no idea where the name Peter Ballard came from," Campbell tells EW in one of his first interviews since landing a part on the drama. "I can only apologize to fans of the show for being part of such a massive red herring. I remember seeing it and being like, 'Okay, guys. Cheers! That's going to be a tough one if anybody asks me, but I'll just go with the party line.'"
The actor hasn't been able to talk about his real role for quite some time. He was introduced as "Friendly Orderly" in the episode credits. It was finally revealed in the finale of season 4, Volume I. that the actor plays 001 and Vecna.
While talking about his role in season 4 the actor tells EW that he knew nothing about the character before the audition.
"I knew nothing. They sent me two sets of sides, originally. One was from Primal Fear and the other one was from Hellraiser. Then for the recall, they sent me some dummy sides from the show, at which point there was a little bit more information about the character, but not loads. [The scene] was actually what ended up being the Chrissy kill. Then I was in L.A. and I just went mad. I did one of those detective mind map things and put Will Byers in the middle and then all the other characters and what I thought was right, inspiration wise. Then I was called into a meeting with Matt and Ross Duffer, and I took a little folder that I had of all these images. I was pretty quiet during the meeting. It was one of those things where it was like, "Keep your f---ing mouth closed and everything will be fine."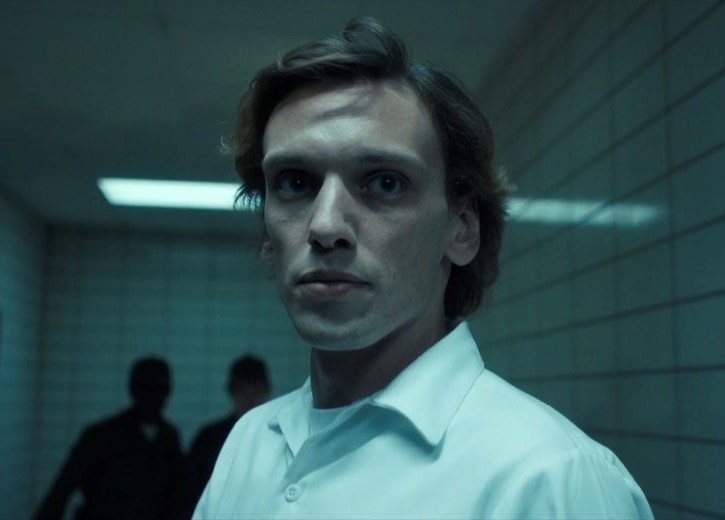 You might be surprised to know that it is actually Jamie under the prosthetics of Vecna and also doing the voice. "Yeah, that's me doing the voice under the prosthetics. It's all me. Ninety percent is practical. The only thing that is not practical are the vines moving on the neck. The voice was an interesting thing. It took me a minute to get that. I'd done so much work on Henry and One before the read-through. I knew how Vecna felt, but I hadn't quite got the voice yet. I would send Matt and Ross audio recordings of myself with spooky vampire music underneath it as this voice was progressing. I've got countless videos on my computer of me doing it... well, doing it badly, walking around pretty much naked. It was funny."
Related Articles: Stranger Things Fans Are Convinced That Will Byers Is Gay
The actor also looks forward to a rematch between One and Eleven. "I'm going to toe the party line here. It gets bigger. If you thought that it was as big as it could get, it's not. It goes further, visually, story-wise, and emotionally for all the characters. It really is quite an explosive climax, let's say. I know lots of people have used the word explosive and scope and scale, but I do mean that. It goes a lot further and we get to know more as well. We learn a lot more as an audience in these final two episodes, as well."
Stranger Things 4 is now streaming on Netflix.