Stranger Things 4 Reviews by Critics: The hit Netflix show is returning for its 4th season on May 27. As the fans wait for the show impatiently, some of the first reviews are out and they have been positive.
Check out the reviews for season 4 below.
Pros
Ambitious story largely pays off
Satisfying lore reveals
All-star cast at the top of their game
Gripping, psychological horror-fuelled action and drama
Cons:
- Multi-narrative approach is slightly hit and miss
Genre hopping in certain scenes is superfluous
Rating 4/5
LIKE
 It's still Stranger Things
 The horror angle of the season is terrifying and a fresh change
 The Stranger Things vibe is still a lot of fun to be around
DISLIKE
 The main characters are split up when all you want is to see them together
 The small-town feel is gone as the scope gets bigger
 Hopper's storyline is so distant that it feels like a different show
 Episodes are too long for no apparent reason (except to pad those Netflix stats)
 Someone please give Will a story (and a better haircut)
Either you're psyched for more "Stranger Things" — the bigger, the better! — or you're currently squinting at these words on your screen trying to parse out what, exactly, could necessitate this many more minutes for a show that was once a decently fun pastiche of '80s adventure movies.
Netflix's Signature Series Is Twistier, Scarier, and a Whole Lot Longer. The kids from Hawkins, Indiana are back for the show's most epic season yet. A season that doesn't quite recapture the lightning-in-a-bottle charm of the show's first season or hit the highs that Season 2 managed, but the big swings it takes do give it an edge over Season 3 and put it on a more assured path as it heads toward its fifth and final season.
Rating: B+
This is bingeable television at its finest: propulsive, nostalgic and addictive. Though some parts drag, on the whole the finished product is cohesive and compelling, filling every second with nail-biting tension or chewy plot material. Well worth a sunny Saturday spent on the sofa.
Stranger Things is so watchable and fun. The characters are still engaging, the scare level has gone up and some of what the Duffers have come up with this season is more inventive than ever. To say more would be delving into spoiler territory – though if you are curious, apparently the series' new tie-in Monopoly game is the place to look.
Rating 4/5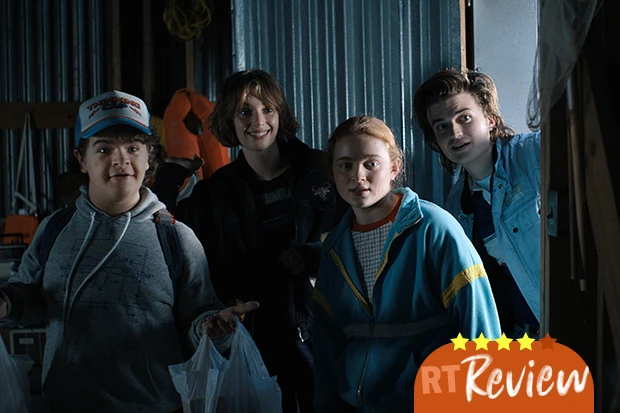 In a surprise to no one, longer does not equal better. But with so much extra time, the drop-off in pure fun is truly bizarre. Arguably, the scariest part of "Stranger Things 4" is how thoroughly it embodies the worst habits of the streaming era — with the only real competition being how much time it takes to fit them all in.
Rating C-
Part 1 of Stranger Things Season 4 sets up its most ambitious season yet, and despite a few moments where you can feel it struggling under the weight of that ambition, it largely works. The performances – particularly David Harbour, Millie Bobby Brown, and Sadie Sink's – are all top notch, new baddie Vecna is appropriately terrifying, and there are some gorgeous special effects.
The new series of the blockbuster Netflix show is a fun, albeit terrifying adventure – and features its scariest monster yet. Sadie Sink's performance is singularly raw. Worth the wait
Rating:5/5
The powerhouse performances from the cast are heartwarming and heartbreaking in equal measure, with Stranger Things continuing to do the utmost to keep its audience on the edge of their seats, unable to predict what's going to happen next. The new episodes mark an incredibly strong beginning of the end, and with the final two instalments of the fourth season set to come out on July 1, we can promise that fans will be transfixed by the rollercoaster journey that awaits.